A Letter from our Minister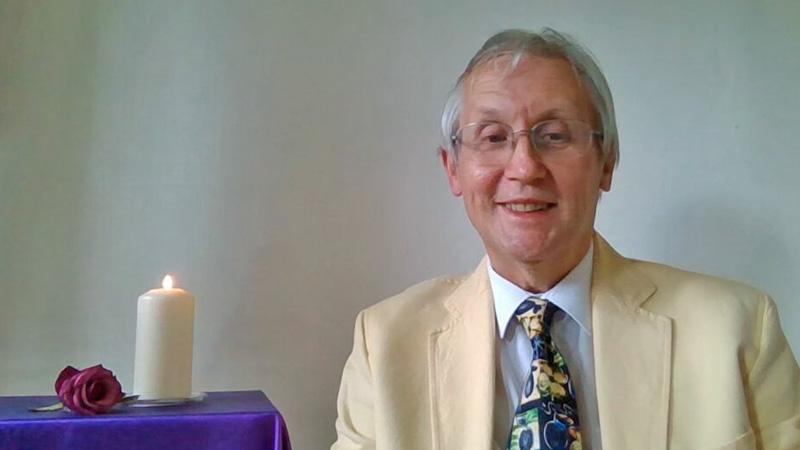 WE WARMLY WELCOME YOU, to our Unitarian and Free Christian website, whether you are an old friend or visiting us for the first time!
Dear Friends,
T S Eliot may have said that 'April is the cruellest month' but for me, it is a wonderful feeling to experience the longer days, when it does not get dark until 8 o'clock, or even later. There is a feeling of energy and vibrancy in everything: the buds turning to leaf, the grass growing once more. The cherry blossoms have largely gone but their beauty was wonderful while it lasted. So much of life is beautiful, while it lasts, but we do not take the time to appreciate it while we have the chance. Human beauty is wonderful, while it lasts, but for those of us fortunate enough to live long enough, our youthful good looks fade into a serene and silver grey (well, we hope it will be serene, rather than haggard and drawn features: it's all part of the lottery of life and genes!)
There is a wonderful passage in one of Somerset Maugham's novels, which speaks of of the glory of human beauty: "Beauty is a gift of God, one of the most rare and precious, and we should be thankful, if we are happy enough to possess it,  and thankful, if we are not, that others possess it for our pleasure".
Like the cherry blossoms, though, human beauty lasts but a short time. Any married couple who succeed in staying together in a happy marriage (not all marriages are happy, of course), will find the outer beauty that first attracted them to each other gradually fades, but they will value each other for their inner beauty. I have had the pleasure of sitting in the home of elderly couples, many married for decades, holding hands while sitting together on the sofa together, as much in love at that moment as they were when they married some fifty or more years ago.
The only lasting beauty is that which is eternal, the beauty that cannot fade, because that beauty comes from the God who is beauty and truth in his very nature and being. "God passes through the thicket of the world," says St John of the Cross, "and wherever his glance falls he turns all things to beauty." This equates to the famous proverb, 'beauty is in the eye of the beholder'. When we see beauty in all around us, we create a world of beauty.
 Plato once said "give me to be beautiful in the inner man [or woman]": and the Book of Psalms encourages us to "worship the Lord in the beauty of holiness" (Psalm 96.9 – AV translation). May the beauty of our Unitarian and Free Christian faith shine out in our lives for all to see.
Alex
Minister Alex
Unitarian Chapel digital & contact information
The Chapel has a Facebook page: Brook Street Chapel and Heritage Exhibition Knutsford  with various posts with news and views.
 Minister Alex's contact details:
Tel: 07518 842 635
A Poem about the Chapel
A Very Special Place

Quiet little chapel on a hill patiently bides her time.
A secret, dignified cosy little teapot with two doors.
The stairs outside quietly outstretched
To welcome Sunday visitors .
She has time to spare for everyone.
A congregation who partakes of schoolroom tea,
Rejoice and reflect and sing of seasons
And listen to reasons in sensible sermons and ministers views,
Observing each-other from opposite pews .
You stand firm, quiet, unassuming,
Hidden from view, unobtrusive, always there, everybody's mother,
Smoothing sadness, sharing joy,
Waiting, watching, accepting, hoping, thinking of the other.
What have you seen through those leaded latticed
Multi-faceted lozenges of light?
You were born amidst famine and fragile unrest
Secretly hidden in the fields by Darkness Lane
A bid for freedom out of dissent, generous courage, and pain
For three hundred years you have watched over town –
Who comes up the cobbles, who goes down –
To sing "The Hopes and fears of all the years are met in thee tonight"
Just how many blackbirds have rehearsed those songs?
Inside whitewashed plain walls NOTHING FANCY,
The low Winter sun casts shadows
And moving beams across the red carpet,
Breathing living green energy in from the garden.
We see organist's legs ascend the outside stair,
A white cat is moving across the panes, hunting out there
Look closer, there are trapped in the glass, bubbles of air.
Did the glass maker sneeze or stir too fast?
It is a very small signature from the ancient past.
NOTHING FANCY, VERY PLAIN.
You are very welcome,
Please come again.
Poem by Jane Crowther