A Letter from our Minister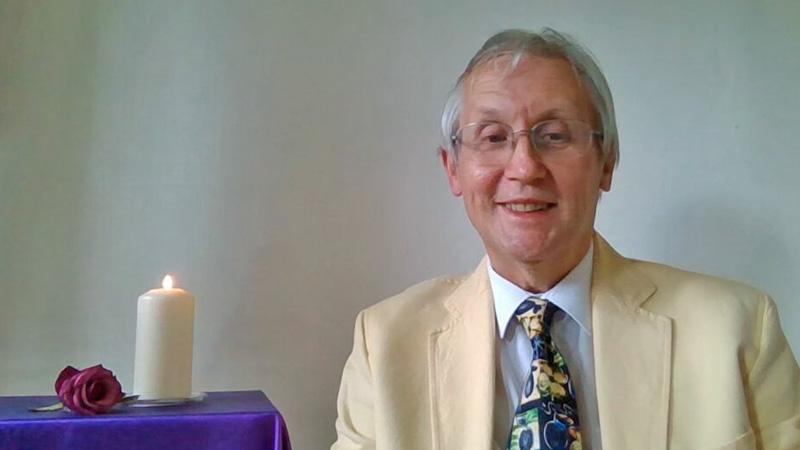 Who are we?
We are a friendly group of people (we also have quite a few doggies who come to service as well!) who are 'Christian with a difference' We try to follow the teaching and example of Jesus, sharing care and kindness in difficult times and fun, smiles and laughter in the good ones. We respect people of all faiths and those of none. We are Christian: Unitarian: Welcoming All!
LETTER FROM ALEX
Dear members, friends, visitors, and spiritual seekers,
Sunday 20 June is 'Fathers' Day'.  Like any other 'special' day, Mothering Sunday, Grandparents' Day, etc, a day such as this can come with mixed emotions. Some of us have wonderful memories of fathers, while others of us have more mixed emotions, perhaps even strongly negative memories. Fatherhood, like motherhood, is not a biological state but a way of being, a spiritual reality, in which we care for another person in the very best way we can.
Those of us who have no children of our own, and I am one of those people, can still care for people in a loving way. When I have spoken to brides and grooms when planning their weddings, some have spoken of how a stepfather or adoptive father has been their 'real' father. Fatherhood is a spiritual reality. Being a parent is a spiritual reality.
A true parent tries to love in the unconditional way that God loves us, loving us because of who we are, even though they may be very different to us, in their beliefs and way of life. We love them for themselves as unique individuals. In the same God loves us, as, in the poetic words of Genesis, he created us, male and female, in his image.
The Unitarian and Free Christian spiritual tradition values our essential reality as unique individuals, formed in the divine image.
The famous 19th Century Anglican theologian F D Maurice (1805-1872) was the son of a Unitarian minister, the Reverend Michael Maurice, and perhaps FDM was thinking of his own father when he wrote these words:
"No true father wishes his son to present an image of his opinions. He knows that the copy will probably be a caricature; that an echo conveys the sound, not the sense, of the original voice. On the other hand, the son whose opinions are most unlike his father's has often learnt most from him; in his latest years he probably discovers how much the authority has helped to mould the very convictions which appear to separate them."
However you may mark Fathers' Day (and some of us will not for our own good reasons) whatever your own experiences of fatherhood, I wish you all a very happy Fathers' Day in the spirit of true parenthood, and fatherhood.
Take care, enjoy the good weather while it lasts, give thanks for the rain when it comes (we need it as much as the sunshine) and most of all, stay safe, be well, and be happy!
Blessings and best wishes,
Minister Alex
Unitarian Chapel digital & contact information
The Chapel has a Facebook page: Brook Street Chapel and Heritage Exhibition Knutsford  with various posts with news and views.
 Minister Alex's contact details:
Tel: 07518 842 635
A Poem about the Chapel
A Very Special Place

Quiet little chapel on a hill patiently bides her time.
A secret, dignified cosy little teapot with two doors.
The stairs outside quietly outstretched
To welcome Sunday visitors .
She has time to spare for everyone.
A congregation who partakes of schoolroom tea,
Rejoice and reflect and sing of seasons
And listen to reasons in sensible sermons and ministers views,
Observing each-other from opposite pews .
You stand firm, quiet, unassuming,
Hidden from view, unobtrusive, always there, everybody's mother,
Smoothing sadness, sharing joy,
Waiting, watching, accepting, hoping, thinking of the other.
What have you seen through those leaded latticed
Multi-faceted lozenges of light?
You were born amidst famine and fragile unrest
Secretly hidden in the fields by Darkness Lane
A bid for freedom out of dissent, generous courage, and pain
For three hundred years you have watched over town –
Who comes up the cobbles, who goes down –
To sing "The Hopes and fears of all the years are met in thee tonight"
Just how many blackbirds have rehearsed those songs?
Inside whitewashed plain walls NOTHING FANCY,
The low Winter sun casts shadows
And moving beams across the red carpet,
Breathing living green energy in from the garden.
We see organist's legs ascend the outside stair,
A white cat is moving across the panes, hunting out there
Look closer, there are trapped in the glass, bubbles of air.
Did the glass maker sneeze or stir too fast?
It is a very small signature from the ancient past.
NOTHING FANCY, VERY PLAIN.
You are very welcome,
Please come again.
Poem by Jane Crowther
Our services are at 11.00 every Sunday.