A Letter from our Minister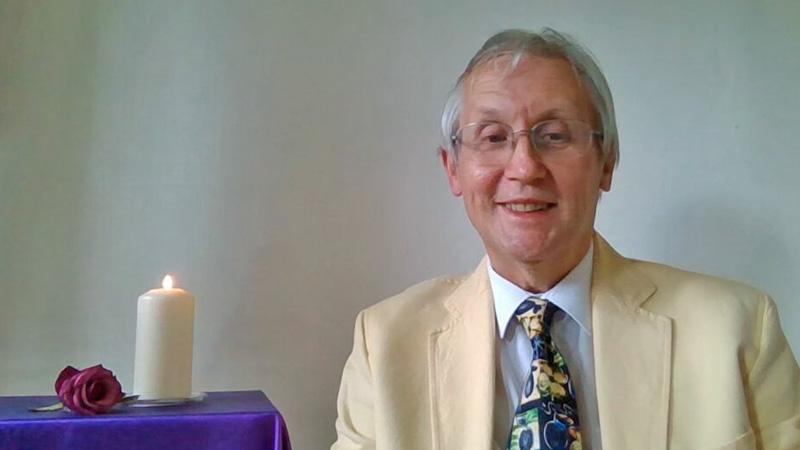 WE WARMLY WELCOME YOU, whether you be an old friend, a newcomer, or a seeker!
Dear Friends,
This letter is written with mixed feelings. This is probably true of the coming of any new year. This time of year between Christmas and New Year's Day and after always feels a little strange, when one has to try to remember what day it is. Services taking place on Christmas Eve or Christmas Day on a weekday can make those days 'seem like a Sunday' and our usual weekly routine is out of sync.  Needless to say, the year just passed has brought its own strange feelings to everything. 
2020 will be a year that many, perhaps most of us, will want to forget, for reasons too obvious to repeat here, but there have been shafts of light in the dark skies of the last
few months. Most recently, I think of our 'midnight service' (at 11.30 p.m.), when a few of us gathered in our ancient and beloved chapel to welcome Christmas Day, the coming of the light now that the shortest day of the year is past, and the coming of Jesus, our teacher and friend, into our world. We held all our members and friends in our hearts and minds in those quiet and almost magical moments. 
We have been so lucky (perhaps it may seem strange to use that word but I think it is right to do so ): so lucky to have talented musicians like our two organists, Aya and Jonathan, and Steve and Roy and the Cranford Brass Ensemble who played in the garden after our Christmas Celebration Service on December 13th (we did miss Jane and her pop-up choir though: we look forward to your return next year!): so lucky to have our committee, Graham, Denise, Alan, Jean, Helen, Ann, Beulah and Steve,
who have carefully worked out risk assessments that have enabled us to open
safely and cautiously, and who also do all the background work that keeps our
chapel in existence in 'normal times' as well: so lucky in our volunteer door stewards Ann, Beulah, Dave, Paula and Hattie, our readers and all those who helped in one way or another: Vanessa for all her help and work with the family services: so lucky that we have lovely friends like ALL of you, who in one way or another, have supported our chapel, our spiritual community. It is this team spirit, this togetherness that has helped us keep going.
This has been a year in which technology has come to the fore and I have had to move into the 21st century regarding Zoom (which used to be what cartoon characters did in my childhood comics), Facebook, YouTube and the like. I know that not all of us have internet access to read websites like this one, nor do we all use our mobile phones for texts, etc so I have tried to keep in touch with others by phone or letter and Jean has done a brilliant job in sending out newsletters and Tara and Mel have been great in helping out with the tech for them. Zoom has also enabled us to keep in touch
with our wider community of members and friends who live a long way from
Knutsford.
I think that the tests of a real spiritual community, are the depth of its worship of God on Sunday (or other times), and then its practical work in the 167 other hours of the week: as the Bible says in a famous text (one often quoted by Unitarians) "faith without good works is a dead thing" (James 2.20). Our harvest service collection of food for Hope Central was a big one (thanks also to Sue and John who delivered it for us) and then we surpassed ourselves with the toys
collected for Ash Grove Children's Centre- Tara and her colleague from Cheshire
Fire and Rescue needed two vans to deliver them! We may be a small church but
we made a big impact in helping people around us. Thank you very much to
all of you who contributed to this result.
Our weekly Zoom gatherings have
developed, without conscious intent, into a 'trust group'; they have been both fun and social, but also sometimes deeply moving when people have shared at a
deep level about people and issues in their lives. Several of us have also shared our thoughts and feelings during chapel services when I have asked for people to share in this way: some prefer to keep their own thoughts to themselves and (speaking as a fairly private person myself) that's
absolutely fine too. 
We lost some very dear friends in the past year, most notably Noel, Jessie, and David (Warman) and David (Kirkpatrick) and Barbara (Austin – a former trustee) and the sense of loss was accentuated in those cases when numbers had to be restricted for their funeral services. They remain in our hearts,nonetheless.
So much has been going on during this year that I would need several letters to cover everything, so, if I have omitted anything or anyone, please know that you are not forgotten or overlooked and that you are loved, valued, and appreciated.
Years ago, I went to Alton Towers theme park and tried several of the rides. Some of them looked quite innocuous but when I went on them (one in particular!) it felt as if my inner organs were being squeezed and twisted inside out. Once was enough!
2020 may have felt like that for many of us: first, lockdown for three weeks at the end of March, then the various changes, the second lockdown, the changing 'tiers' and now we have the latest news that Cheshire East, like most of the country is now in 'Tier 4'.

The official YouGov website says that "communal religious worship" is permitted, (with obvious precautions) so we
have decided to continue with in-person services for the time being, including Jean's
service this coming Sunday, 3rd January. Some of us may understandably not wish
to attend for the time being and, indeed, we may have to suspend chapel services again if the situation worsens, quite apart from official government advice. In the meantime, our stewards and our committee are making every effort to ensure the well-being and safety of all who do come on Sundays.
This letter is much longer than I intended: to quote the wonderful words of Blaise Pascal, "I have made this letter longer than usual, only because I have not had the time to make it shorter". That is my excuse, at least!
A heartfelt thank you to you all, both those reading this letter and those who do not have email, for all your help, support, friendship and loving-kindness during the past year, and for me personally, the unfailing love and support of my wife Jean.
Wishing you all a happy, healthy,
and prosperous New Year,
Alex
Minister Alex
Unitarian Chapel digital & contact information
The Chapel has a Facebook page: Brook Street Chapel and Heritage Exhibition Knutsford  with various posts with news and views.
 Minister Alex's contact details:
Tel: 07518 842 635
A Poem about the Chapel
A Very Special Place

Quiet little chapel on a hill patiently bides her time.
A secret, dignified cosy little teapot with two doors.
The stairs outside quietly outstretched
To welcome Sunday visitors .
She has time to spare for everyone.
A congregation who partakes of schoolroom tea,
Rejoice and reflect and sing of seasons
And listen to reasons in sensible sermons and ministers views,
Observing each-other from opposite pews .
You stand firm, quiet, unassuming,
Hidden from view, unobtrusive, always there, everybody's mother,
Smoothing sadness, sharing joy,
Waiting, watching, accepting, hoping, thinking of the other.
What have you seen through those leaded latticed
Multi-faceted lozenges of light?
You were born amidst famine and fragile unrest
Secretly hidden in the fields by Darkness Lane
A bid for freedom out of dissent, generous courage, and pain
For three hundred years you have watched over town –
Who comes up the cobbles, who goes down –
To sing "The Hopes and fears of all the years are met in thee tonight"
Just how many blackbirds have rehearsed those songs?
Inside whitewashed plain walls NOTHING FANCY,
The low Winter sun casts shadows
And moving beams across the red carpet,
Breathing living green energy in from the garden.
We see organist's legs ascend the outside stair,
A white cat is moving across the panes, hunting out there
Look closer, there are trapped in the glass, bubbles of air.
Did the glass maker sneeze or stir too fast?
It is a very small signature from the ancient past.
NOTHING FANCY, VERY PLAIN.
You are very welcome,
Please come again.
Poem by Jane Crowther