A Letter from our Minister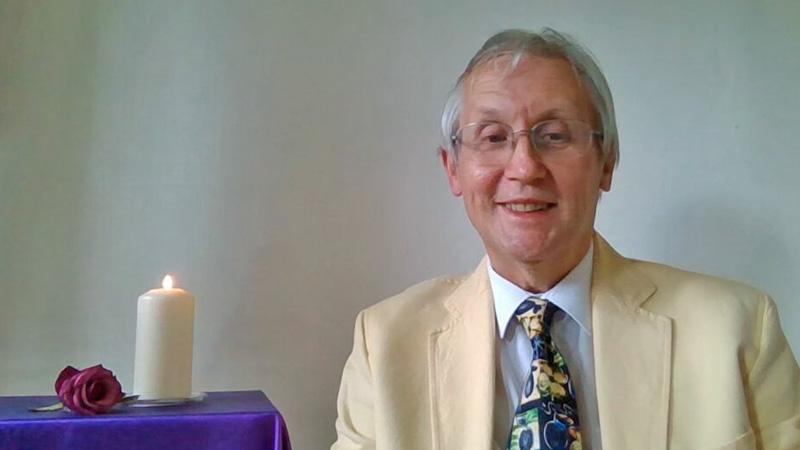 Who are we? We are 'Christian with a difference', seeking to offer loving kindness, practical service and open arms to people of all faiths, questioners and seekers. So, whether you are young or old, straight or gay, employed, or unemployed, or retired, from whatever background or place you come from, we warmly welcome you.

We meet in the freedom of the truth and in the spirit of Jesus, to worship God and to serve our neighbour as ourselves.
 Dear Friends,
It may seem strange to say, 'dear friends' to people new to this site, but as someone once put it, 'Strangers are friends you haven't yet met'. We hope you enjoy looking at this website, and, if you are able, that you will be able to join us in our beautiful and ancient chapel building. Our
services are at 11.00 every Sunday.
Now that the coronavirus restrictions are being lifted, from May 18th, we are re-starting our Tuesday coffee mornings from 10.00- 11.30 in the hall on Adams Hill (the entrance is just by the bus stop). Come and join us for 'the cheapest and friendliest coffee in town'. You might also want to look at our exhibition about the history and heritage of our chapel upstairs: please ask one of our members if you are interested. (There is a disabled access lift for anyone who has difficulty mounting the stairs).
Our first Family Service on the first Sunday of each month will be on 4th July, led by Rev Jean. It will be great to welcome children back again.
If I were asked to describe religion in a few words, they might be faith, food, freedom, fellowship, and fun. Religion is of course about faith – but we Unitarians and Free Christians say that each person should be free to find and understand God or Truth in his or her own way.
Religion is about food for the body (and we enjoy biscuits after service, and occasional chapel meals as much as anyone else) but it is also food for the soul.
Religion is about fellowship: I can worship God anywhere whether on a beautiful coastline, in a woodland glade, or on a Metro train) and I do so – but coming together with fellow worshippers makes me feel that I am part of a greater whole, a larger reality, a spiritual power, which I call God, although I am happy to accept that others may describe it differently.
Religion is about fun. Yes, of course, there are times of solemnity and deep thought in worship and elsewhere, but religion at its best is a joyous experience. As G.K. Chesterton said, 'The test of a good religion is whether you can joke about it'. We invite you to come and join us at Brook Street for (in Hilaire Belloc's phrase) 'laughter and the love of friends'.
With love and blessings
Alex
Minister Alex
Unitarian Chapel digital & contact information
The Chapel has a Facebook page: Brook Street Chapel and Heritage Exhibition Knutsford  with various posts with news and views.
 Minister Alex's contact details:
Tel: 07518 842 635
A Poem about the Chapel
A Very Special Place

Quiet little chapel on a hill patiently bides her time.
A secret, dignified cosy little teapot with two doors.
The stairs outside quietly outstretched
To welcome Sunday visitors .
She has time to spare for everyone.
A congregation who partakes of schoolroom tea,
Rejoice and reflect and sing of seasons
And listen to reasons in sensible sermons and ministers views,
Observing each-other from opposite pews .
You stand firm, quiet, unassuming,
Hidden from view, unobtrusive, always there, everybody's mother,
Smoothing sadness, sharing joy,
Waiting, watching, accepting, hoping, thinking of the other.
What have you seen through those leaded latticed
Multi-faceted lozenges of light?
You were born amidst famine and fragile unrest
Secretly hidden in the fields by Darkness Lane
A bid for freedom out of dissent, generous courage, and pain
For three hundred years you have watched over town –
Who comes up the cobbles, who goes down –
To sing "The Hopes and fears of all the years are met in thee tonight"
Just how many blackbirds have rehearsed those songs?
Inside whitewashed plain walls NOTHING FANCY,
The low Winter sun casts shadows
And moving beams across the red carpet,
Breathing living green energy in from the garden.
We see organist's legs ascend the outside stair,
A white cat is moving across the panes, hunting out there
Look closer, there are trapped in the glass, bubbles of air.
Did the glass maker sneeze or stir too fast?
It is a very small signature from the ancient past.
NOTHING FANCY, VERY PLAIN.
You are very welcome,
Please come again.
Poem by Jane Crowther
Our services are at 11.00 every Sunday.